Christmas is coming and we want to give you some ideas to make your own Christmas greeting card and have a little fun with your mobile during your holidays. We have dived through a very big lists and bring to you the Top 7 Christmas Cards Designing Websites.
Take a look You will surprise your friends!
Related: Top 15 Christmas Card Photoshoot Ideas for Families
Here is the list of Christmas Cards Designing Websites
1. Canva
Canva is one of the best tools for creating Christmas postcards. It offers you a wide selection of templates so that your design does not have to start from scratch, many of them free and others paid. Type in the search engine Christmas cards or just Christmas to find templates with Christmas motifs. Then take a look at the available designs, choose the one you like the most, and customize it by writing a personalized message, adding or removing components.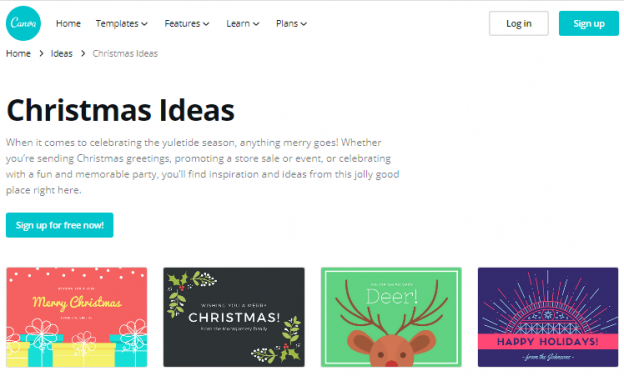 https://www.canva.com/ideas/christmas-ideas/
.The results are very eye-catching and attractive, and your friends and family are sure to love it.
2. FotoJet
FotoJet is another of the best websites to create Christmas cards. It is a free and online editor that is used in a very similar way to Canva, and it also has free and paid templates to design your cards.
3. Fotor
Fotor is another of the most popular and recognized platforms for editing images and creating postcards. It has a browser version, as well as applications for iOS and Android, and can be used for free.
.With this tool, you can edit your photos, create collages, or custom designs, and create a Christmas greeting card you just have to click on the Design option.
4. Crello
It is an application that allows you to create Christmas greetings by adding the faces of your family and friends to one of its fun Christmas backgrounds. Also, Users find a large number of Christmas cards with which they can be personalized in hundreds of possible ways and send them to their family and friends this Christmas.
https://crello.com/create/christmas-card-maker/
5. Adobe Spark
With this excellent image editor, you can take a family or personal photo -or even several of them because collages also allow- and enrich it with a lot of thematic elements: frames, special effects, various designs of snowflakes, Christmas hats, beards of Santa Claus, multiple text fonts to embed custom messages, etc.
https://spark.adobe.com/make/card-maker/christmas/
6. Pizap
Special for these dates, if you want to express sincere wishes for Christmas and New Year, in this app, you will find phrases allusive to the holidays, appointments, wishes, greetings, and funds to make personalized Christmas cards, which can be shared by mail, messages or social networks.
.
https://www.pizap.com/christmas_card_maker_app
.Almost professionally, Pizap helps you create and edit Christmas greetings. The user has the option to choose from more than 90 Christmas greetings, add the photos they want, modify the text, and share it on your social networks, WhatsApp, message, or email..
7. JukeBox
A great collection of lovely Christmas photo frames and with the effects to suit your needs. The handling is very simple, choose a template from elegant models. Subsequently, the photo is selected from the gallery or camera and the text is added.
https://www.jukeboxprint.com/creator/Christmas-card-maker
.You can set each resulting image as a contact icon or wallpaper and save it.
It also allows you to send the card as a message or post it on Facebook and Twitter to surprise your friends and receive their comments.