Having your own business card is a basic requirement of your business. A business card is a professional way to present your business contact details and information to a potential customer, a partner, or other businesses. Having a professional business card reflects the quality of your business and level of professionalism.
Designing your own business card is a way ahead if you are someone who has just started or has a small business. Even your enthusiasm to create your own business card would want you to design your business card.
But what's the major pain point when you want to design your business card?
Where do you start to design your business card?
You go on Google and search 'Design your own business card'. What comes in search is a plethora of websites offering custom templates or their services to design your own business cards. Now you are lost in the search results to find a perfect solution and where to start from.
If you are a photographer and looking to design your own photography business card, you would be struggling to find a perfect website for your photography business card.
Most of the websites on the search result give numerous options to design your business card, but mostly in a simple or minimalistic way.
Although some websites may offer some level of a creative touch to your design, then they may ask you to buy their exclusive design.
As a photographer, you are not just a service provider but a creative artist. A creative artist needs a creative way and a creative edge for a photography business card.
Let's get started with steps to design your own business cards.
Keep these ready before you take your first step
Like its important to have a driving license before you buy a car to drive, it's important to have some things ready before you start to design your photography business card. 
Brand Name: A name that everyone can associate you with. A brand name is what creates trust for you in the eyes of your customers, clients, and partners. So, having a brand name is important before you start to design your own business card. It's the brand name to which people will associate your name when they see your business card. 
Brand Logo: What do you think about, or make an image in your head when you hear the word animal? Four legs, body, and tail. But what do you think when you hear the word Lion? A fierce wild carnivorous animal built to kill and you have the image animal with big beards, strong teeth, brownish golden in color, and fierce look.
That's what a brand name and brand logo do. They complement each other to create an impression in the mind of your audience to think of you when they see your logo or hear your name.
To design your photography business cards the brand name usually goes by your name. Your name should go in a unique and impressive manner. Try with some special fonts and characters to bring a special look and feel to the name you carry.
Color scheme: Did you notice I described the lion with its color? What if you see an animal with the same looks but different colors. You won't consider it the same. A panther is different from a black panther. What do you think about when I say a blue "M" on a black background? Nothing. And a yellow 'M' on a red background? Now you know what I am talking about. That's exactly what the color scheme does to your brand. So, get a color scheme ready before you start designing your own business card.
Knowing what to communicate
Imagine the business cards as a billboard that goes in hand and from hand to hand. It is important to keep in mind what your customers or clients should think about you when they see your business card. The first impression they make about you when they see your business card is the long-lasting impression in their subconscious mind. Remember "The first impression is the last impression" 
There are a few questions you should keep in mind when you think about what to communicate:
What's your mission?

What are your values?

What's your unique positioning?

What is your brand personality?

What makes you special?

What makes you better?
Keeping these things in mind you will be able to think better what you want to communicate with customers and clients.
If you are looking for photography business cards, you should think about your offering, your quality, and what you specialize in to give your cards a unique and stand out feature to communicate what you stand for.
Choose a size
Size and shape of your card. That mostly depends on the standard size of the country you live in, but still, you can choose to stand out. People choose shapes that resonate with their brand. Like, a photographer business card could be shaped like a camera, that's almost a boxy shape, with a few cutouts and can go well with the brand and business type.
So does the size of the card. Here are some of the popular and standard size across the countries:
North American Standard: 3.5 × 2 in. (88.9 × 50.8 mm)

European Standard: 3.346 × 2.165 in. (85 × 55 mm)

Oceania Standard: 3.54 × 2.165 in. (90 × 55 mm)
When you start editing a new document, or a new project that needs to be printed, one thing that has to be present is borders. That helps your print quality to be better and space for adjustments for any paper alignment issues in the printer.
Trim Line: Its the first line of a border in the card. Its usually taken at 3mm from the edge of the paper or the design format.
Bleed Area: The area between the trim line and the edge of the page is called the bleed area. It's for safety measures of your design or could be cut out. It could also be designed to suit the shape of your card.
Choose a design template
Choosing a design is the most important and tough task. Creating a design is tougher than choosing a design. So its better to go with available design templates. 
Here are some design template examples you could consider to try with your own business card.
Solid matte color with contrasting color text 
Light Shades and Dark Texts
Creative borders and Logo with details
Matte finish background with golden texts for a premium feel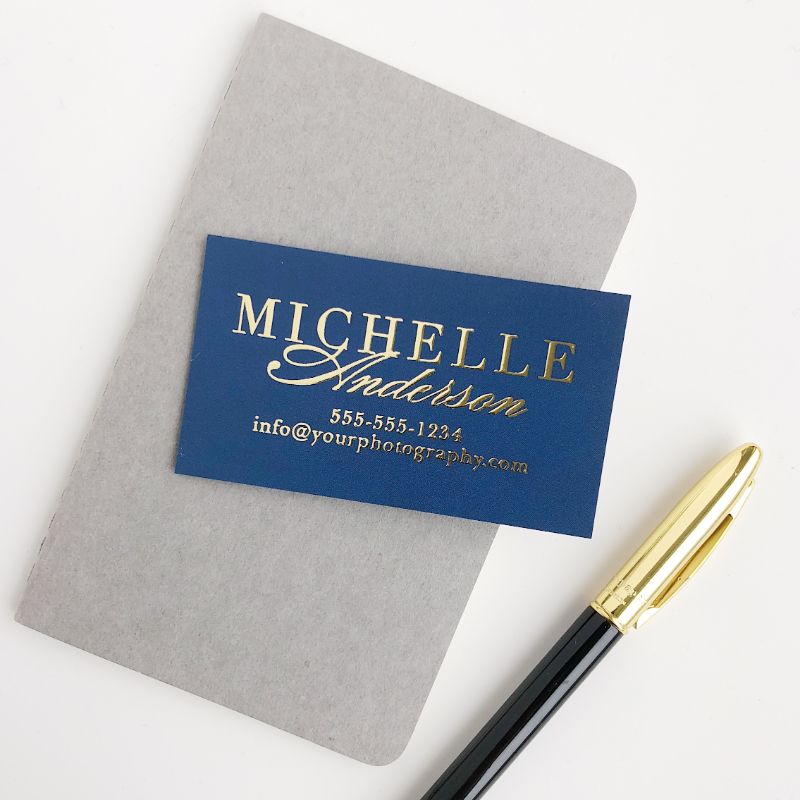 Portraits can be creative
The transparent one
These are some of the most sought after designs in demand. People usually choose to maintain the standard shape but the choice of materials and creativity with designs is never-ending.
Insert your texts, graphics, and logos
Once you have chosen your template the next step is to upload your details. Details are the piece of information that you need to communicate with your customers and clients. Choose each and every detail in proper format and also choose wisely what you want to show in the design of your own business card.
Some details which should be commonly included in your details are your name, phone number, email address, website, and your designation. Some specific details which you can choose to put is a QR code. A QR code is a solution to many tech-related issues that can be used in print media to communicate with electronic media. You could make a QR code of your website, Facebook/ Instagram page, or other links, images, or pages you want your customers to land into.
Hire a designer cum printing service
After going through all the hassles of designing, the final step is to get it printed. There are many services that could print your design or you can get a professional design that is suited to your specific needs for your business cards.
Hiring a professional service can save you a lot of time and money on going through each and every step of the process and you could just give in your details, choose a style and leave the work on them for design and printing and getting it delivered to your doorstep. 
If you are looking to design your own business card I recommend you must check out this Business Cards design and printing service. Their charges are as low as $0.17.
For a professional photographer, it's not easy to find a design template and service that best suits your needs. Designs have to be creative and attractive to your customers and clients. You must check out the link Photography Business Cards for your designing and printing solutions.
Finalize your design and material
Once you have chosen your designs and your printing services you just need to finalize your design and the materials and finish you need on your business cards and get them printed and ready to use.
Going through all these steps you would be able to get the design your own business card or photography business cards.
Pro tip: Remember your business cards resonate with your brand and values, make them professional, and if in doubt at any point in designing your own business cards hire a professional.