Your hunt for the best photo editing software for macOS has brought you here. Our rating and ranking process for the best photo editing software will clear all your doubts and give you the clarity to choose which software you would work best with.
The software which you want may depend on the type of task which you want to perform. You may need the best photo editing software possible to do a professional-like touchup to your photos, or you could be a newbie trying to learn basic editing for your social media, or you could be searching for the best software to manage your photos and do basic editing. Do not worry, we've covered all the possibilities for you here. Even if you've got a Windows device, we'll let you know which software is good for your cross-platform use.
Related: 25 best photo editing apps for your phone
Here we bring you the 10 best photo editing software for macOS.
What are the criteria for choosing the best photo editing software for macOS?
Our criteria for choosing 10 best photo editing software for macOS was:
Functionality
Features
Overall user experience
Ranking and rating
What is the ranking criteria for choosing the best photo editing software for macOS?
We lined up about 30 photo editing software and rated and ranked them. Our rankings were based on their functionality and usability they provide to users. To give you unbiased rankings for the best photo editing software for macOS, we also searched for their rankings on other websites and agencies. The rankings were then made by comparing how often they were chosen in the best photo editing software lists, and what their rankings were on those platforms. We also used our ranking algorithm to give you this list of the best photo editing software for macOS.
List of the 10 best photo editing software for macOS
1. Pixelmator Pro
Pixelmator is a popular image enhancer for many Mac users as it offers a good blend of modern and simple visualization, multi-layer capabilities, and powerful features that take image editing to a whole new level.
Pixelmator Pro comes with a new ML-Enhance mode that uses professional artificial intelligence with a 20 million photo catalog, automatically adjusting each color correction. Like Luminar, this feature gives you a great place to start making customized repairs to your photos. There's also a denoise feature that removes noise and pressure sensors in images.
Pros:
Machine Learning enhances several features
Quick selection and repair tools are decent
Flexibility with raw editing features
Cons:
Export options are limited
The dark, monochrome interface may not have good visibility
2. GIMP
The GIMP or GNU Image Manipulation Program is full of features and allows you to customize your own images.
Gimp offers a large collection of advanced tools that no free software editor can boast.
It has many upgrade options such as clone and cooling brushes, layers and channels, intuitive selection tools, multiple transition tools, and, of course, color correction controls.
Gimp is one of the most powerful image enhancement tools and is loved by many users for its price and flexibility.
GIMP also comes with a problem that most open source applications encounter: the UI looks old and useless. GIMP is one of the most difficult to use editing apps you'll find on this list.
Pros:
Easily expandable
Feature-packed
Opens almost any image file
Cons:
The interface is a little cluttered
Hard to learn
3. Luminar 4
Luminar 4 is a full-featured pro photo editing tool for Mac and it's also very easy to use.
It comes with over 60 filters, some of which use artificial intelligence, to enhance your photos with just one click.
It works much better with photography and good shooting.
You have access to all standard image editing tools such as masks, layers, radios, color correction, and more.
You can use them to make changes to your photo in your photo just as you would any other photo editing app.
Sorting lets you get really close to your final result with just one click. From there, you can make minute changes to find the perfect result.
Pros:
Integrated image catalog
Non-destructive editing
AI sky replacement
Cons:
Drastic interface changes from V3
Appearance and style lack subtlety
Still no virtual copies
4. Affinity Photos
This app features professional tools and supports almost all popular file formats including JPG, TIFF, PNG, GIF, PDF, PSD, and RAW images.
It comes with all the basic photo editing tools you can expect in a photo editing app such as eye removal, scanning, sorting, painting and drawing tools, color correction tools, masks, filters, and more.
It also has an unadjusted UI with clearly marked tools that are easy to find and use. Play, manipulate, edit, and create Affinity Photos whether you're a serious graphic designer or just someone looking to do basic editing.
Pros:
High-powered photo editing
Raw processing within the workspace
Editing of very high resolution in real-time
Can read, open and edit Photoshop PSD files
Cons:
Difficult to learn for beginners
No 3D or internal vector tools
No custom workspace
5. Adobe Photoshop Elements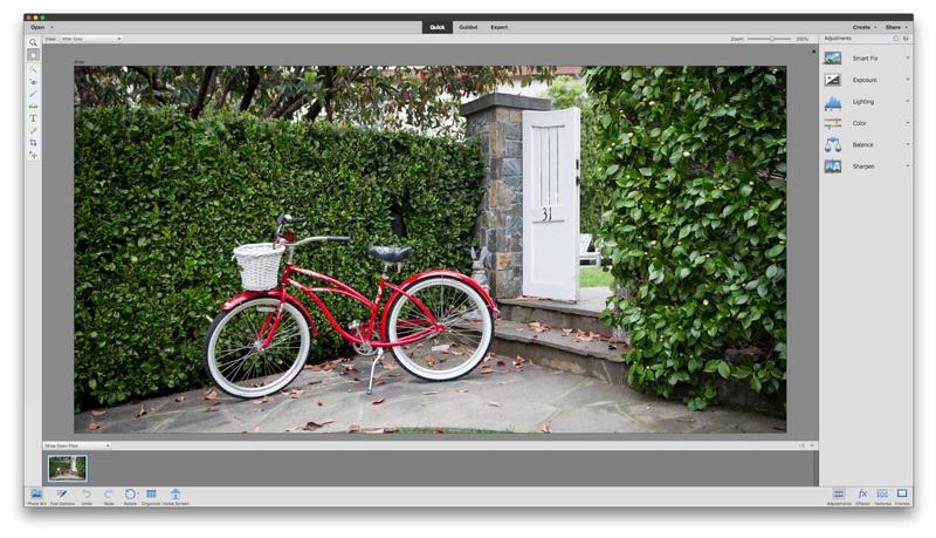 Photoshop Elements gets a lot of powerful features from the regular Photoshop, however Elements only makes it easier for Amateur photographers and enthusiasts.
It includes a number of effects and filters, as well as automated editing options to improve brightness, color balance, and exposure, and even fix closed eyes and reduce the effects of camera scratching.
In addition to all of these great features, Photoshop also offers editing methods for beginners, intermediate users, and professionals.
For beginners, they will probably like faster mode, because it focuses on the important tools for improving your images faster by improving color, lighting, and other basic settings. Guided Mode provides central users with a step-by-step guide with professional features such as artistic effects, skin tone correction, and background restorations.
Expert mode gives you full access to powerful programming features of the app and is perfect for creating great images.
Pros:
Retouch performance is the same as Photoshop
Easy to learn
Numerous tutorials
All RAW formats supported
AI technology for more powerful guided edits and auto creations
Cons:
Some aspects are unclear
Elements Organizer can't integrate with iCloud Photo Library
A limited selection of included patterns
6. Fotor Photo Editor
The Fotor Online Photo Editor is full of features that make creating great photos as easy as pressing a few buttons on your computer. It's free to use and offers a moderately priced version with upgraded capabilities.
Getting started with a photo editor requires you to sign up for a free account. Once that's done, you have access to a variety of tools that allow you to edit your photos and create beautiful collages and images using their large selection of templates.
With this photo editor, you can easily change the contrast and color of multiple items of washing, crop out images, add borders, move and change your photos, add different text, use various filters, and much more, all from the easy-to-use toolbox on the right side of the app. You can even create collages for your photographic art!
Pros:
Smart filter and effects
The easy photo collage tool
RAW file converter
Cons:
Not very feature-packed
Not suitable for creating artwork from scratch
7. Adobe Photoshop Lightroom
If you need a simple and efficient way to process, touch up, and display multiple catalogs or hundreds of images, Adobe Lightroom is one of the best photo editing software. A powerful, yet easy-to-understand, animation tool for editing. Photographers, pro photographers, and painters use Lightroom how traditional photographers use black.
Best of all, Lightroom automatically saves your photos to the cloud and lets you organize them using the same or similar Lightroom interface, whether you're using your phone, tablet, or computer.
Pros:
Excellent photo editing tools
Full-res backup on the cloud
Auto-tagging of generic keywords
Great interactive tutorials
Cons:
Can't rename a photo or edited version
No side-by-side zoomable comparison of images in the library
8. Apple Photos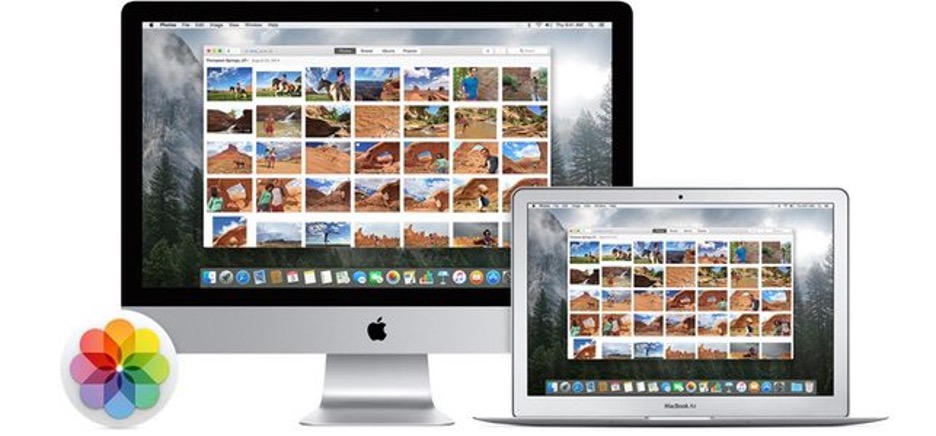 This app has easy-to-use editing tools such as filters and Smart Sliders. In addition, it has a Markup tool, which can add text, shapes, and create drawings and signatures. Other tools include Light, which is used to unlock hidden information; and Return used to compare with the original type.
Photos surpassed all other Mac image editing software in its integration with the iCloud Photo Library.
This excellent center allows users to fill their libraries, not their devices. This is done by keeping photos and videos compatible with other Apple devices, such as iPhone, iPad, Apple TV, and Apple Watch. This integration works in such a way that, for example, an photo taken by the iPhone is immediately available to other devices.
Pros:
Intuitive, slick interface
Face recognition
Plug-in support
Neat tricks for iOS Live Photos
Good sharing options
Cons:
Auto-albums not editable
Filters aren't adjustable
9. Photolemur 3
Photolemur is relatively new in the photo editing market but has all the potential to gain the likes of professional photographers and beginners.
It works with Artificial Intelligence and Photolemur 3 is a baseline enhancement tool for all images, which means it makes all your edits in no time.
It has the simplest interface, with only a few buttons and sliders to adjust to your tastes while viewing the before and after results.
All you need to do is select the image you want to enhance, drag and drop, or import it using the import button, and let the program do the enhancements. After it's done, you can compare the edited version with the original image by using a before-and-after slider and, if you want, change the skin tone or widen the eyes using additional add-ons.
Pros:
Fast and simple image processing
Batch processing unlimited images
Extensive image format support including RAW
Good exposure and white balance results
Cons:
Some images lack sharpness
No zoom tools
10. Google Photos
Google Photos is a popular cloud storage service for photos and videos. Google Photos may be useless when it comes to photo editing, but it does a great job of storing high-resolution photos and videos with 15GB of free online storage, compared to iCloud's 5GB.
The editing tools include basic features, limited to selecting simple filters, and slider controls for adjusting brightness and color, as well as tools for cropping, rotating, and adjusting the scale. You can also combine a set of photos to create a collage or slideshow with pictures, but Google Photos' editing tools are certainly more limited than Mac's and other photo editing apps.
If you're planning to take a trip and take lots of photos, then it would be wise to sign up for Google Photos to use that extra space when you return.
Pros:
Attractive, ad-free interface
Good facial recognition
Photo sharing suggestions
Basic photo books
Good for basic editing and enhancement on the go
Cons:
No undo step for editing and blemish removal
Sharing suggestions could improve
Not for pro-level editing