How to Use Brush Tool in Photoshop
Now I am going to show you how you can use Brush Tool in Photoshop.
Step 1: Choose Foreground Color
Brush Tool is probably the easiest tool that we have in Photoshop. You need to change the foreground color. It is present in the toolbar at the bottom.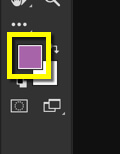 Click on the square shape box and choose your color.
Step 2: Paint it
Create a new layer by pressing Cmd+Shift+N/Ctrl+Shift+N. You, of course, don't want your work to be destructive in nature.
Now that we have already grabbed the Brush Tool, we can simply start brushing.
As I already mentioned, alone Brush Tool is not of much importance. So, let's mix it with a blend mode.