Hey guys, welcome to my another tutorial from 30 Days to Learn Photoshop series. Today, we'll be discussing the Camera Raw in Photoshop. Last time I discussed Shape tool in Photoshop and with that tutorial, there's nothing else required from the tool panel for a beginner.
I remember when Camera Raw was not present as a filter in Photoshop. In fact, it was not at all present in Photoshop. It was a standalone plugin for which users need to pay extra amount. Then Adobe merged it with Lightroom, and then with Photoshop.
The Camera RAW engine is basically made to process RAW photos but, nowadays, most of us use to process any type of photos. In Camera RAW, you can paly with the basic look and feel of the image like basic settings, curve, details, split toning, and so on. Until you're a hardcore photographer, that's all you want to do with the photos.
Without further ado, let's get started with the tutorial.
What is Camera RAW in Photoshop?
Camera RAW is a plugin (yes, plugin!) that comes in Adobe Photoshop and Adobe After Effects. It's a processor to perform small and basic tasks efficiently to save the time of photographers.
Where in Camera RAW located in Photoshop?
You can find them in Filter menu. Go to Filter>Camera RAW Filter. Alternatively, you can press Cmd+Shift+A/Ctrl+Shift+A to activate it.
Camera RAW Window
Below is what Camera RAW window looks like.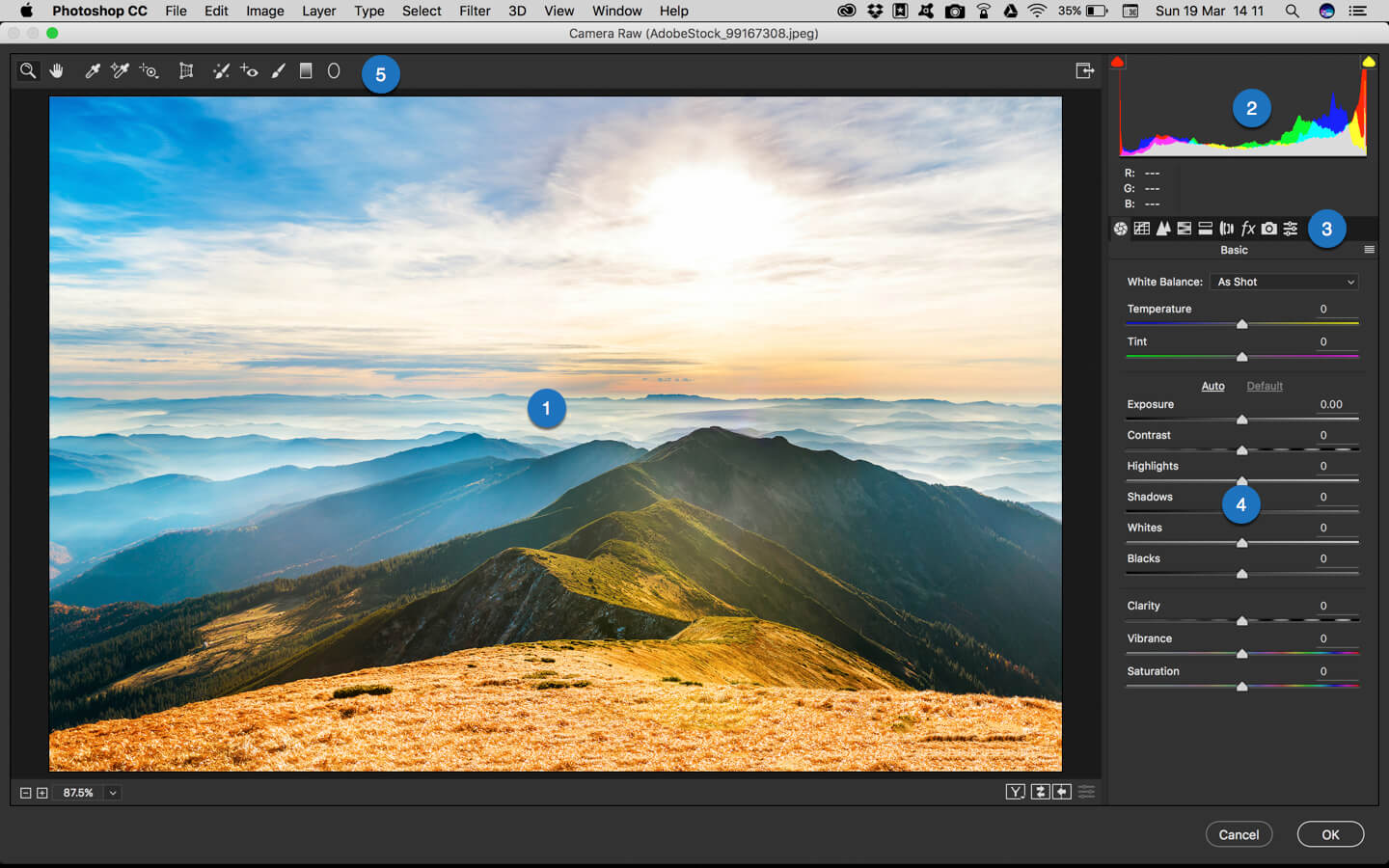 I have numbered the 5 components of Camera RAW.
Preview: It is the preview of the image. Whatever changes you make, Photoshop is going to preview it here.
Histogram: If you like the image to be balanced, you can check it here. Right now, the Histogram says that the image is bit overexposed.
Tabs: Here you can switch between the settings that are tabbed together according to their functionality.
Settings: Here you can see the sliders to alter the image.
Options: If you have ever used Lightroom, these icons will look similar to you. The icons present here will help you with white balance, color picker, the addition of gradient, red eye removal, spot removal, etc.
Now, let's start with the sliders that Adobe calls as basic.