24

min read
Hey guys, welcome to another tutorial on 30 Days to Learn Photoshop series. Last time I showed you how to use adjustment layers in Photoshop but I didn't show you all of them. We're covering those in today's tutorial.
Before we begin, I'd like to recall the adjustment layers that we discussed last time. They were Solid Color, Gradient, Pattern, Brightness, Level, Curves, and Exposure. Today, we'll be learning Vibrance, Hue and Saturation, Color Balance, Black and White, Photo Filter, Color Lookup, and Invert. We're leaving other things because you're never going to use them.
So let's begin and start revising few things.
WHAT'S ADJUSTMENT LAYER IN PHOTOSHOP?
The Adjustment Layers in Photoshop are a group of some useful, non-destructive image editing tools that add color and tonal adjustments to your image. Did you read the word "non-destructive"? Yeah, all of the changes will be done without harming the original image. Means that you can go back to any point in time without any loss. It's like a Time Machine in macOS and Win7 backup in Windows.
WHERE ARE ADJUSTMENT LAYERS LOCATED IN PHOTOSHOP?
Adjustment layers are located at the bottom of layer panel (press F7 to open).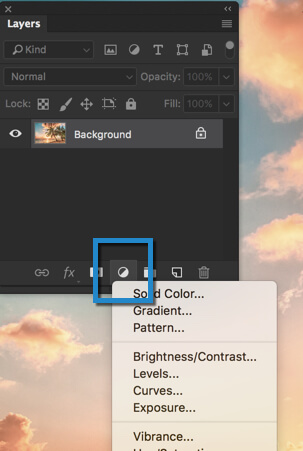 All the things that you'd use daily are present here. Be it Brightness, Color Balance, Photo Filter, Gradient, or even Invert are present here.
Now that you know what and where of the Adjustment layer, let's explore it. I am going to explain each layer in a two separate tutorial this is the second tutorial (here's the first one). In the tutorial, I'll cover Solid Color, Gradient, Pattern, Brightness, Levels, Curves, and Exposure. The rest of the things will be covered in the next tutorial.
What is Vibrance in Photoshop?
Vibrance slider lets your picture more or less vivid. So, if you think that your image looks pale and you want to increase the color, you can use this slider. Below is the image where I added the color.
In the adjustment panel, you'll also see another slider which is named as Saturation. If you play with that slider, you'll see that both of them increases or decreases color.
If so, then why did Adobe provide two sliders when they work similarly?
Actually, they don't. They both do the same job and do it differently. If you pull both sliders one by one all the way to the right, you'll see that saturation adds more color. Vibrance only manipulates the pixel which is pale. It doesn't touch pixels which are already saturated. This results in a balance of color. On the other hand, Saturation doesn't discriminate. It increases the saturation of all the pixels by the same amount.
What is Hue and Saturation in Photoshop?
Hue – you've heard this term first on day 23 when we were discussing Camera Raw in Photoshop.
Hue changes the color of the entire image. It basically changes the hue of the image. In the below image, I have changed the hue to +42 and the hue of my photo is changed.
Saturation does exactly what we discussed in the previous section. It increases or decreases the saturation level.
Lightness does what it's named after. It increases or decreases the lightness. Almost all the time it messes up the photo so I never use the Lightness slider.
One cool trick – if you want all the picture to be of the same color, you can use the "Colorize" checkbox. You may want to increase the saturation otherwise your photo will be of grayscale.
What is Color Balance in Photoshop?
You see tints on almost all the photos that are taken by your phone. Most of those are yellow tint and some have a blue tint. You want to remove those tints but you don't know how. This is where Color Balance comes into the picture.
Color Balance layer corrects the color of your photos.
In the above image, I removed yellow tint and photo is looking better. This is how it was looking before.
Can you see the difference? The first photo is looking much better than the second photo.
In Color Balance adjustment layer, there are three tones – Shadows, Midtones, and Highlights. Whatever is dark in your photo is considered as shadow and whatever is light in the photo is considered as a highlight. Everything in between is considered as midtones.
In the above image, the sun and sunrays are highlights, the tree leaves and tree shadows are shadows, and the rest of things are midtones.
While correcting your color, you need to make sure that you select the proper tone. If the sun is having blue tint than you need to select highlights tone and make the changes.
What is Black and White Adjustment Layer in Photoshop?
As the name suggests, this tool lets you convert your image to black and white.
You'll see 6 sliders. These sliders let you modify your photo appearance.
For example, if you drag the red slider to the right, the pixels which are having red color will become brighter. The opposite will happen if you drag it to the left.
A rule of thumb: To save some time, I click on the "Auto" button and then tweak the sliders. This saves me a few minutes.
What is Photo Filter in Photoshop?
I understand that Color Balance is hard to use and a bit time-consuming. You are wondering if there's any another alternative to remove the tint in photos. Well, there is, and Adobe calls it Photo Filter.
There was a huge yellow tint in the image. After using a blue filter, most of the yellow tint is now gone. I understand the photo is slightly moved towards blue but my main aim is to show you that it can be done.
Apart from fixing tints, you can also use Photo Filter to give nice effects to your images. To choose the filter, click on the drop-down menu to choose presets or you can choose your own color by clicking on the colored square. It's always appreciated if you turn on "Preserve Luminosity" every time. This keeps the highlights of the image bright.
What is Color Lookup in Photoshop?
Now the next thing we're getting into is Color Lookup. You can consider as filters that you get on Instagram. It's pretty straight-forward. Just open the Color Lookup and choose which lookup you like.
You can also create your own filter but let's not get into that for now.
What is Invert in Photoshop?
Now the next thing that we have is Invert. It's pretty much straightforward and you already know what it means. It simply inverts the color. If you are born in the 1990s or before, you can consider it a negative copy of the image.
The keyboard shortcut of invert is Cmd/Ctrl + I.
And that's it!
We have not completed the adjustment layers in Photoshop. Check out what's happening with Photoshop in TrickyPhotoshop.
Make sure that you make the most out of the offer below.